---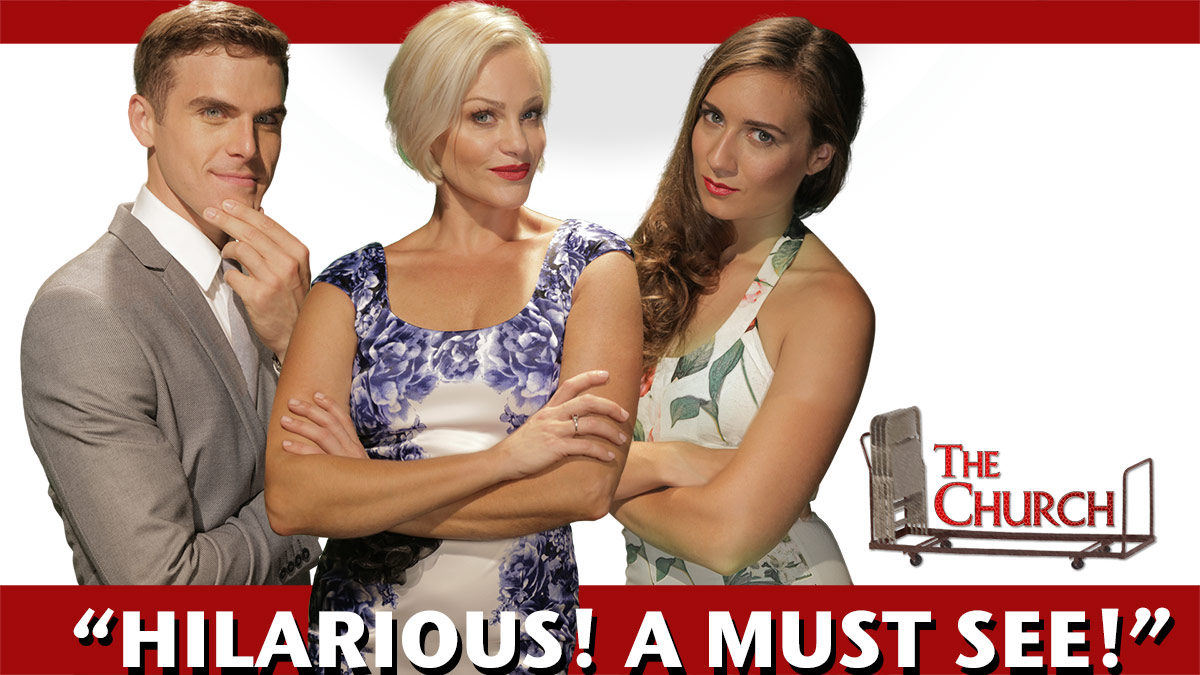 From the award-winning production team at SGWW and Colors Studios comes The Church, a hilarious "documentary-style" look at the spectacle that happens at RCC, a start-up church in upstate New York.
The magnificent principal cast of 17 include Broadway sensation Nicolette Hart (Rent, The Wedding Singer); veteran actor Peter Doyle; and Tom Deckman (Blue Bloods, Law and Order: SVU, Sex and the City, Monty Python's Spamalot.)
The Church is filmed at Old School 31 in the heart of the Arts District in Rochester, New York. The amazing, historic, 61,000 square foot building has been converted into 7 sound stages, green rooms, staying rooms, and studio space for the show.
---

Colors Studios has a long history of producing awe-inspiring and heart-warming attractions that wow audiences that are both young and young at heart. Colors uses all the latest technology to produce shows that are completely immersive for audiences. And, if the technology doesn't exist to properly tell the story, our talented core of creative and technical artists will create it. Our philosophy is not to merely thrill guests, but to effectively bring our inspirations to life with a multi-sensory approach, without the bounds of traditional limitations. Colors has produced several multi-sensory attractions including Miracle 4D — a 3D animated and live action film which guests experience on a custom built, computer controlled motion platform. Colors Studios current project is The Bethlehem Barnyard Jamboree – a theme park type stage show and attraction with a cast of life-sized, custom designed, computer controlled animatronics. Learn more.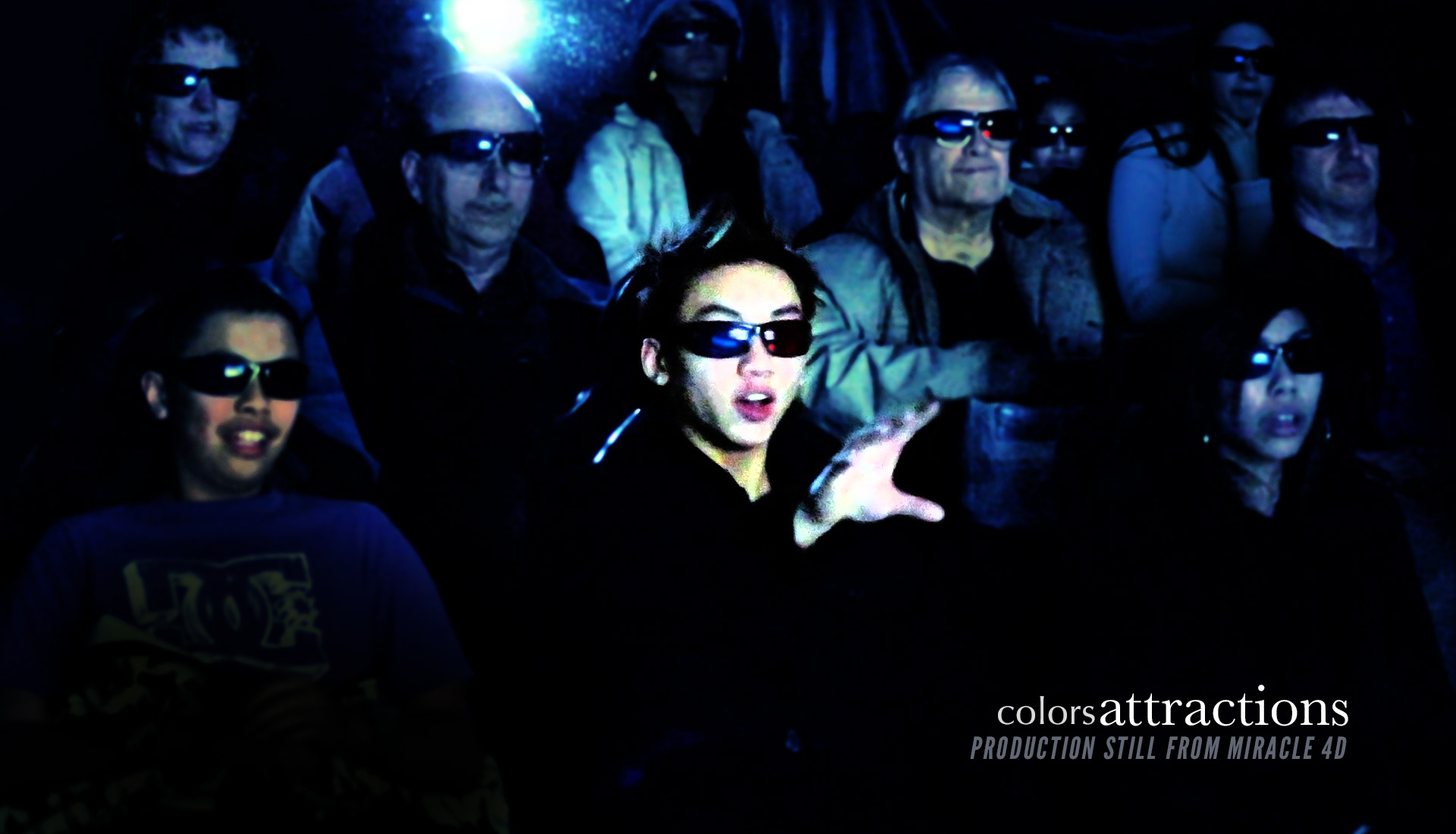 ---

Colors Studios has a long history of producing cultural documentaries around the world. In addition, there are several narrative and US-based documentary projects in the works.
SEE OUR PROJECTS
---

We are continuously seeking new talent to join the Colors family. Colors Studios has several projects in production including "The Church." Click the button below to begin the virtual audition process, and take advantage of this opportunity to work with our stars! We hope to one day see your name in lights!

BEGIN YOUR AUDITION

61,000 square feet located in the heart of Rochester's Arts district
11 Sound Stages
Luxury Lofts / Staying rooms
Dedicated Wardrobe, Makeup & Green Room lofts
Dedicated Grip, Camera, & Sound rooms
Writers Loft
Recording Studios
Green Screen Studio
Animatronics / Tech Studio
Production Offices
Commercial Kitchen
Recreation Room
Dedicated parking
Cafe'
22 Custom-design, computer driven seats (pitch and roll)
3D High Definition projection system
7.1 Dolby Digital Surround Sound System featuring Bryston processing and amplification
Bryston 6B-SST Professional Power Amplifier
Bryston 4B-ST Professional Power Amplifier
Bryston 8B-ST Professional Power Amplifier
Bryston 4B Professional Power Amplifier
Bryston SP2 Professional Dolby Digital ES 7.1 Surround Surround Sound Processing Unit
RBH Signature Edition Reference Speakers (Front Left, Right Speakers)
RBH Signature Reference Edition 661SE/R Dipole Surround Speakers (Rear Left and Right)
RBH Signature Reference Edition 61SE/R Speakers (for center, Left and Right side)
RBH Signature Reference Edition SEN1010 Subwoofer
RBH SA400 Subwoofer Professional Power Amplifier
Wind, Scent, Snow effects.
Soundcraft 40 channel recording console
Rolling Rack #1 1- Focusrite Red 7 Microphone Preamp
Rane Audio MLM-82a Professional 4-channel stereo mixer
Blue Blueberry Large-Diaphram Professional Recording Microphone
ADK A-51 Large-Diaphram Professional Recording Microphone
Sennheiser EW-100 Professional wireless lav systems
Aphex Compeller Professional 2-channel compressor
HMI:
3x Arri Arrilux 125 Pocket Par HMI kits with AC and DC ballasts
2x DigiMole 200w HMI Kits
Arri 575/1200 Fresnel HMI with Arri electronic flicker-free ballast
1x Arri 200w HMI Fresnel light kit
Flourscent:
5x Arri Studio Cool 4 dimmable florescent fixture with 3200 and 5600 lamps
2x Mole-Richardson Molescent eight-tube fluorescent fixture with 3200 and 5600 lamps
2x Kino Flo Complete 4×4 kits
2x Kino Flo Complete 4×2 kits
1x Flolight 2500 – 10 bulb fixture
LED:
3x F&V K4000 Bi-color 1×1 fixtures.
F&V R300 ring light
Tungsten:
3x Mole Richardson 10K Tenors
4x Arri Studio 1K
2x Arri1K Opens
Mole-Richardson 2K Molequartz Super-Softlite (with egg crate)
Mole-Richardson 2K Molequartz Baby Zip Softlite (with egg crate)
Mole-Richardson 2K Junior Solarspot
Mole-Richardson Mickey-Mole
3x Mole-Richardson Mini-Mole
2x Mole-Richardson Tweenie-Mole
3x Mole-Richardson 407 1K
2x Mole-Richardson Mini-Softlites
2x Mole-Richardson Midgets
2x Arri 650 with speed ring and Softbox
2x Arri 300
2x Altman 2K
2x Altman 1K
2x 100w peppers
10x Lowel Totas
4x Lowel Omnis
5x Lowel DP
Stills:
Calumet Travelite Strobe System for Still photography
LIGHTING STANDS
Mole 325 Cinevator Stand
Mole Richardson Comet Stand
Matthews Hi-Boys
Matthews Mombo Combos
Manfrotto counterweighted boom stand
Matthews 2K Rollers
Mole-Richardson Baby Stands
Mole-Richardson Junior Stands
Mole-Richardson Junior Shorties
Mole-Richardson Senior Stands Matthews Stands C-stands (with grip arms)
Various Mole Richardson and Matthews Kit Stands
CARTS
Inovativ ECHO 48 Cart
Magliner JR cart
Imaginer sound cart
Various wagons, hampers, carts
BUTTERFLIES / LIGHTING CONTROL
12×12 Frame
2x 12×12 Silk
12×12 Muslin
2x 12×12 Grif
2x 8×8 frames
3x 8×8 silks
2x 6×6 silk
8×8 solid
6×6 frame
6×6 solid
5x 4×4 Floppies
Matthews Road Rags Kit (flag and C-stand, and grip kit)
Matthews Finger and Dot set
Various flag sets
Various Chimera sets / speed rings
Grip
Small auto pole
Medium auto pole
Large auto pole
Matthews 4×4 Mirror
6x Maffers with pins
12x Grip heads
4x 18″ Furniture Clamps
2x Wall Spreader
2x Duck Bills
2x Pigeon Plates
6x Gaffer Clamps
20x Spring Clamps
2x Big Bens
2x Baby Bens
2x Baby Pipe Clamps
2x Apple Box Sets
40x Sands Bags
8x Ratchet Straps
16x Baby plates
2x Mole Richardson Molevac baby base plate
3x Mole Richardson Molevac baby dual-cup base plate
4x 60" (retracted) Mole Richardson light hanger
7x Mole-Richardson Double baby headers
6x Scissor Clamps
10x Manfrotto super clamps
Filmtools 3025 Car Mount Triangulation Kit in hardcase
Other:
Back drops, gels, wagons, hampers, various barndoors, scrims, snoots, egg crates, clamps, mounting plates, arms, hangers, and misc grip , etc
SPECIAL EFFECTS
Mole-Richardson MoleEffects Fogmaker Kit
ELECTRIC
Honda 2k Generator
Various stingers, variacs, electrical adaptors (stage pin, twist lock, edison, etc)
2x 150k BTU salamander heaters
Mole Richardson 103B/126B 22ft. Microphone Boom / Perambulator
Schoeps CMIT-5u Super-cardioid microphone system
2x Schoeps CMC641 Hyper-cardioid microphone systems
ADK Large diaphragm microphone system
Rode PinMic
Schoeps VMS 52 UB
Sound Devices 744t Recorder
Sound Devices USBpre 2
Sound Devices 302 Mixer
Sony PCM-D1 Professional Portable Linear PCM Recorder (24bit/96k)
2x Sennheiser EW100-ENG system
4x Shure A89SM shock mounts
3x KTEK Boom Poles
KTEK Boom cradle
Various Rycote Blimps systems, furies, balls, dead cats and mounts
Various Portabrace and Petrol cases
Sound Blankets
AMPLIFIERS (other than those deployed in studios:)
Rotel RMB-1075 5 channel Professional Power Amplifier
Rotel RMB-1050 2 channel Professional Power Amplifier
SPEAKERS (other than those deployed in studios):
Event Opals
B+W 805
RBH Signature Reference 41SE/R Loudspeakers
RBH Signature Reference Edition SEP1010 Subwoofer
Bang & Olufsen Beolab 6000 Speakers
CAMERA / VIDEO RECORDERS
4x Panasonic GH4 4K Cameras
Canon 5D Mark III Cameras
Sony A6300 Cameras
Sound Devices Pix E5 4K Recorder
Small HD 502 Monitor with Sidefinder
2x Red Pro Mattebox system with top and side flags
Chrosziel Compact 4×5.65 Mattebox
Various Filters
Letus Helix Jr. Gimbal System
Letus Master Cinema Series Follow Focus
Cinegears Wireless Follow Focus
Wooden Camera Cage Systems
Letus Master Cinema Series ManCam Camera Rig
Letus Master Cinema Series ShoulderCam Camera Rig
Red Clutch Shoulder Rig
CPM Film Tools Carbon Fiber Camera Cage Kit
Ambient Master Slate Timecode Kit
Leica Apo Macro Elmarit 100mm f2.8 lens
Leica 24mm Elmarit-R ROM f/2.8 lens
Leica 28mm Elmarit-R ROM f/2.8 lens
Leica 50mm Elmarit-R ROM f/2 lens
Leica 19mm Elmarit-R ROM f/2.8 lens
Leica 35-70mm Macro-Vario-Elmar-R ROM f/4 lens
Leica 80-200 Vario-Elmar-R ROM f/4 lens
Canon 24-105mm L series lens
Canon 100-400mm L series lens
Sony/Zeiss 16-35 FE lens
Sony/Zeiss 24-70 FE lens
Various RED Camera Adaptors and Plates
Various Portabrace production cases
Various Pelican Hardcases
Super 16mm Film Camera Package Various lenses
Minolta Digital Light Meter
CAMERA SUPPORT:
Travato Tote Jib
Kessler Crane 12 ft Ultra Duty camera crane
Sachtler Video 14II Tripod System
CPM Geared Head
Leica Photo Tripod System with ball head
Giottos Tripod System
Cartoni Beta Tripod System
Kessler Crane Kpod with Hercules v2 head
Various Manfrotto tripod systems and monopods
Matthews Doorway dolly with pneumatic wheels and Hot Button wheels
4x Matthews Curved track
4x Matthews Straight track
Platform Camera Dolly
Kessler Crane Shuttlepod with Oracle Controller and Keeper/Grabber wheels (for time lapse and motorized dolly shots)
Various Kessler Track
Kessler 100 & 500 series motors
Kessler Crane Revolution Head
VIDEO PLAYBACK / REFERENCE / PROJECTORS
65″ Production 4K Monitor
2x Sony 17″ OLED Monitors
2x Flanders 24″ 10-bit Monitors
TV Logic 24″ 10-bit Monitor
2x Sony KD-34XBR960 34″ high definition reference quality monitor
JVC DLA-RS1 Digital High Definition Reference Projector (1080p)
High Definition Stereoscopic projector rig (2x Epson 8350)
Panasonic AE900 High Definition Projector (720p)
XGA Projector (3500 lumen)
NEC 4100W-NP6 (5500 lumen)
Various Reference Monitors